Name: Angelica Enberg
Age: 22
Sports Branch / class: Figure Fitness, soon Women's physique
Honours: 3a Norway Open, 5a Swedish Championships
Sponsors: Tyngre, Nocco
Instagram: angelicaenberg
Facebook page: Angelica Enberg
When did you start with fitness and what was it that made you first found interest in the sport?
I have been playing football and handball, but stopped doing team sport early 2012 because I did not have time for it. After that I bought a gym membership, but had no idea how I would train there. In late 2012 I realized that lifting weights was the thaaaang! I started to build muscle and shitty rumors hit the town. It was very provocative for many, I realized .. And I love to provoke!
Have you done any other sports before?
Many different sports since childhood, but mainly football and handball. Has also gone much snowboarding.
You started with athletic fitness, body fitness the fall of 2014, rumors say that next year it will be womens physique. What is your plan for the coming competitions, and your aims to get there?
Rumors are true .. For once! 😉 I'm very psyched on a new class, however, I want to build a bit more before I feel ready. The goal is always aimed toward the top, and I know I will be disappointed in myself if I do not reach it. But within a year is the preliminary plan! WP has been my goal for a long time, so figure fitness was reallymore like a mile post for me.
You're moving to LA to become a permanent fixture in Gold's Gym, what's with this Mecca of bodybuilding that is so appealing to you and others who breathe and live for fitness?
The Motivational boost I got when I was at Gold's during my vacation last summer was absolutely huge. The venue, the atmosphere, the people, all the equipment, thorough quality with free weights and all the equipment you can think of. Gold's is anything but average, which in itself is typical of the United States, and I like that a lot. Fuck average!
What do you like best about this sport?
That it is an individual sport. I'm not saying I'm bad at cooperating since I've played in team sports for over 10 years .. But it's a special feeling to build something of your own,something that only I can create. How far I want to reach is only up to me, and it is only I who can do the job. I do not have any "teammates" who needs to aim for the same goal, in order for me to succeed. It's only me! I must of course have the tools, but coach Joakim Hetland helps me.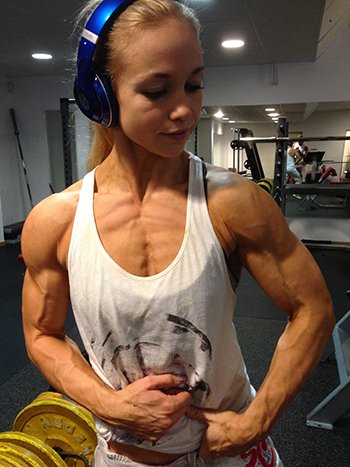 What do you like least in this sport?
Stupid asses one might run into here and there, but that´s one thing you can count on. Sometimes negativity become a motivation for me. That said, I like to provoke and argue. : P
Then also the fact that is a judge ruled sport. Sometimes I think that there is some misjudgment in many cases, and it is sad, but thats´s the name of the game.
Who is your biggest role model?
Dana Linn Bailey and Danielle Reardon.
What are you most happy with yourself and what you get most compliments?
Suppose you are referring to physics and in that case it is probably the waist when I was dieting, ha ha! Get a lot of compliments for my legs and the guys often nag me about joining me on a leg workout (= they want to know the secret behind a pair of meaty legs). Otherwise, I think I have a nice physique and good symmetry, so the overall picture of myself, thats what I am most satisfied with, if one may be so cocky. 😉
What is your favorite 'cheat meal "?
Swedish tacos .. Haha!
What is your favorite diet food?
The breakfast always tastes the best, oats with chocolate protein, pretend that it's some kind of chocolate cake you eat.
What is your ultimate motivational song?
Listen either to house / trance or hip-hop. Right now it's Crave You – Jolen.
What is your favorite exercise and why?
Walking lunges. The exercise is challenging and you feel it really good on the back of your legs. Make sure to load enough weights!
You have 30K followers on Instagram, what are the images you get the most response from your fans and what kind of response?
I usually get very positive feedback for my long texts, which I write to the images, many can recognize themselves in the thoughts I sometimes share. Then I always get more likes and comments when I post on season photos. However, I have many faithful followers who always follows me no matter whether I am on-season or off-season and that is the most meaningful to me.
Have you ever experienced something unpleasant in connection with followers or fans? And what was it?
No more than murky and sexist comments, but I block those people immediately. Sometimes people write to me and are spamming with tex on Facebook. but when I don´t answer, they usually stop.
If you could select a celebrity hunk to go on a date with, anyone, who would it be and where would your date be?
I'm Not single, but may very well go on a date with Steve Cook! 😉 A workout at Gold's is the ultimate date!
Have you ever done something that you think is embarrassing associated with this sport? And what was it?
Can not say that I'm the type who thinks they know it all, but I have expressed myself about things concerning diet and exercise that I later realized was wrong. And it's a bit embarrassing when you do stuff like that! I´m still young, inexperienced and have a lot to learn.
If you can give yourself a piece of advice before you started with fitness, what would it be?
Do not be too hasty! All this takes time, and even though I want so much, I need to keep a cool head.
Comments
comments